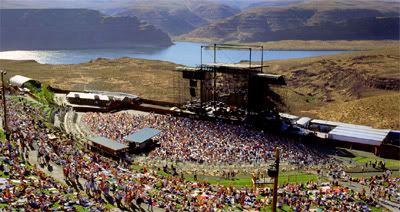 Coachella
has some fierce competition when it comes to music festivals. Sasquatch Festival is the equally anticipated music event back dropped by The Gorge scenery in Quincy, Washington, where dozens upon dozens of bands will gather to play for a crowd of thousands. While tickets are still available, they're rising in price as the date draws near. Current prices start at $66.50 per day but will increase to $76.50 per day, two weeks prior to show.
The hefty lineup includes::
Yeah, Yeah, Yeahs
(pictured above),
Animal Collective
,
Dan Deacon
,
Bon Iver
,
Passion Pit
,
Fleet Foxes
,
Dent May and His Magnificent Ukulele
, and so much more.
**PLATFORM WILL BE REPORTING LIVE FROM THE FESTIVAL - ACTUALLY CAMPING ON CONCERT SITE!
MORE INFO::
SASQUATCH MUSIC FESTIVAL