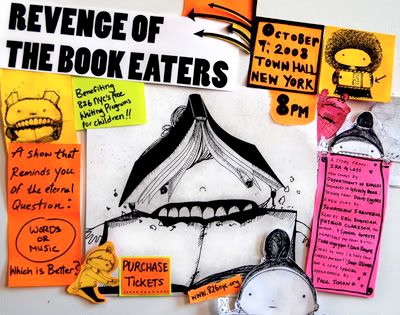 This year, The Bowery Presents the Revenge of the Bookeaters: a fantastic night filled with musical performances by members of Grizzly Bear, storytelling by NPR host Ira Glass, special appearances by Parker Posey, as well as Tunde Adebimpe and Kyp Malone of TV on the Radio. They will gather together in an effort to raise money for 826 NYC: an organization dedicated to supporting young students (ages 6 to 18) with their creative expository writing skills through tutoring and mentorship.
Ticket prices range from $45-$100. They're selling out fast though, so buy yours soon!
Oh, and a very special appearance by Paul Simon...
MORE INFO::
REVENGE OF THE BOOKEATERS