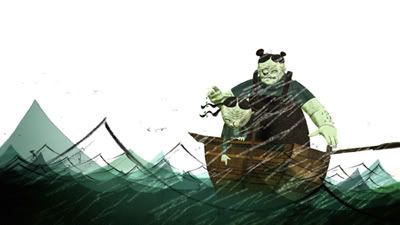 Last week I attended the annual No Spot Film Festival for Creativity Magazine. Production companies and Ad agencies gathered to discuss the up & coming, and those who submitted work.
Among the budding (yet somewhat already established) filmmakers, was animator Luis Cook. His short film titled, The Pearce Sisters was my overall favorite of the bunch.
"An amusingly bleak hearted tale of two weather lashed old spinsters, Lol and Edna Pearce. They live on a remote and austere strip of coast. They scrape out a miserable existence from the sea. The Pearce sisters is a tale of love, loneliness, guts, gore, nudity, violence, smoking and cups of tea."
If you're not "into" animation, that's okay. Trust me, you'll still have a wild appreciation for the quirky humor. Unfortunately, Cook did not take the title for Best Short, but what does Creativity know!? I'm still a fan.
WATCH A CLIP::AARDMAN'S "THE PEARCE SISTERS"