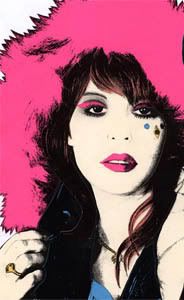 SPEAKING OF AN ARTIST::GLASS CANDY
Going back to the days when I felt the rhapsody for electronica music, Glass Candy brings all those fantastical memories of youthful dancing and miniskirts back into the present.
It's Ida No's sultry vocals mixed with Johnny Jewels producing talents that make this semi-new duo an unstoppable must-listen-to force.
B/E/A/T/B/O/X is Glass Candy's newest album. Their roller disco sounding track Etheric Device channels some Olivia Newton John mixed with a IDM influences.
For those feeling the dark days of nothing to listen to while getting ready (as I have been feeling of late) Glass Candy will be sure to get you in the "mood" once again, dancing to the genius computer generated tune(s).
YOU WILL ENJOY IF YOU ENJOY::CHROMATICS,KATE BUSH, OLIVIA NEWTON JOHN, CUT COPY
ARTIST::GLASS CANDY
ALBUM::B/E/A/T/B/O/X
FAVE TRACK::ETHERIC DEVICE
BUY::
AMAZON.COM::$8.91
LABEL::
ITALIANS DO IT BETTER
MYSPACE::
GLASS CANDY