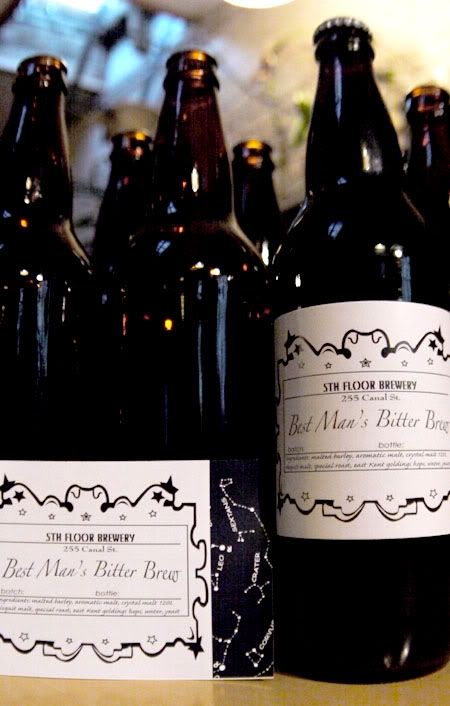 As previously mentioned, I attended a Catskills wedding last weekend for two really great friends, Rachel and
Darren
. It was one of the most uniquely beautiful weddings I've been to. The couple (and maid of honor) put together such a detailed event, it was hard to keep track of everything! But one of the standout details was the custom made beer made by the best man, Bill.
Here is a very thorough background on the birth of this beer, courtesy of the
best
best man.
Best Man's Bitter Brew
I wanted to make something for the wedding that would be relatively light and drinkable, what beer drinkers would call a "session beer," with just enough bitterness and hop flavor and aroma to keep it interesting. I decided to do a type of English pale ale called a "special or (alternately) best bitter." The style I chose also made naming the beer fairly easy: Best Man's Bitter Brew. English pale ales (bitters, special/best bitters, and extra special bitters) tend to be a bit less hoppy/more balanced than American pale ales. They also tend to be slightly darker in color than their American counterparts. This beer was a little nontraditional, though, in that I used hops from New Zealand that added a little more citrus aroma instead of East Kent Goldings hops.
Read more...