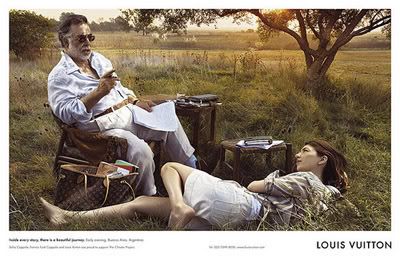 It seems as though Sofia Coppola has been under the radar post-baby, taking time to adopt her new role as a mother. So, when she decided to get back into the limelight, she thought what better way to do so than alongside prolific daddy and director, Francis Ford Coppola. The image, shown above, was shot by Annie Leibovitz and is the newest venture by LVMH's
Core Value
campaign with Marc Jacobs, part of the reason Sofia Coppola agreed to the campaign (*Coppola and Jacobs have been friends since they were 18).
Coppola also loved the photographs of previous celebrities shot for the campaign, Keith Richards and Catherine Deneuve, also by Leibovitz.
"It's great to work with Annie - she did a good portfolio on the set of Marie Antoinette. She just selects one picture and then shows it to you. But I think that's good. My dad and I were both like, yeah, whatever you want, this is your shoot. On your own set you want it exactly your own way, but we can get with someone else's vision too."
I love the gentility of this image, as both Coppola's look extremely comfortable yet sophisticated in their element. It looks like a true father-daughter moment.
RELATED ARTICLE::
TIMES ONLINE