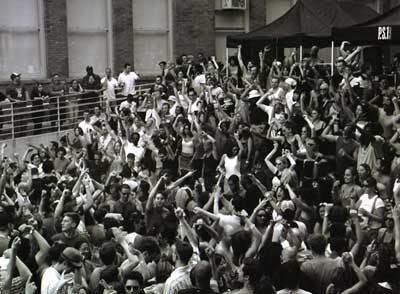 This past Saturday I was feeling rather spontaneous. So, at 4pm I gathered the energy to trek to Queens-- out of all places! (Thank-God for the G train)
My final destination was PS1, a contemporary art center and affiliate of The Museum of Modern Art, better known as MOMA.
When I arrived, there was already a line around the block. I thought to myself "Wow, there must be a great exhibit!" Yes, there was a great exhibit, however the real reason for the eager gallery goer's was that it turned out to be the second Saturday of Warm Up.
"Warm Up is P.S.1's critically acclaimed music series and has become one of the most anticipated summer events. The series is housed within the architectural installation created by the winner of the annual P.S.1 and MoMA organized Young Architects Program . Together, the music, architecture and exhibition program provide a unique multi-sensory experience for music fans, artists, and families alike."
ANYHOW, although this has been around for years, this was my first time actually going to a Warm Up event, without even the intention of doing so. But I'm absolutely giddy I fell upon it, because it was great. The energy was infectious and everywhere you looked, people were bouncing and dancing to the tribal-like drum set that was playing, which I'm currently researching because it was so good.
I'll admit that at first, it was a little too much to bear, so I headed on inside (stay tuned for future post about exhibit) But when getting back out, I was amazed at how filled up the space was.
So, for anyone who is like me (living under a rock apparently) and has not visited Warm Up, here is the summer schedule so you can get your oblivious ass out there.
July 14: agnes b. presents . . .
Poni Hoax:The Penelopes:Frustration,Morpheus:JB Wiz:Ex Nihilo Crew:Plus Marina Rosenfeld and Zeena Parkins
July 21
Objektivity hosts with:Dennis Ferrer:The Martinez Brothers:Plus Eric Singer's LEMUR (League of Electronic Musical Urban Robots)
July 28
Tummy Touch brings you:DJ's: Ursula 1000:Tim "Love" Lee:Ramon Santana:Wunmi and Unicornicopia
August 4
TBA
August 11
Trouble Man Unlimited/Italians Do It Better bring you:Glass Candy (live):Mike Simonetti + a special guest DJ:plus Elliot Sharp (live)
August 18
Rong Music host:DJ Spun:Ben Cook (aka Stranger):Eric Duncan (Rub n Tug):Woolfy Projections (live):plus Dewanatron (Leon and Brian Dewan, live) & Ray Sweeten and Zach Layton (live)
August 25
Escort (live):Felix Dickinson (Cynic, Urban Myth, Bastedos; London, England)
plus LoVid (live)and David Linton (live)
MORE INFO::PS1