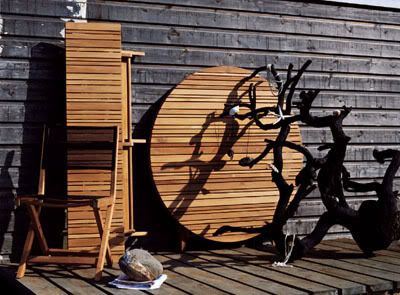 Home design company "Habitat" has issued their much-anticipated '07 Mini Catalogue via Internet.
What you'll see: Fresh summer homes with monochromatic tones offset by deep shades of oak wood. Features furniture pieces like the Rattan chair hammock, which is a furniture tool selected from a species of six hundred tree palms, established by the tribe of Calameae.
The art direction is unbearably beautiful for it's simplicity. It's a fresh breath from all the Ikea clutter; we're sometimes influenced into thinking as "fashionable" & "Trendy". However, unlike Ikea, Habitat is not for those on a budget. Items range from €45 to €849. Yes, those are Euros. Unfortunately, items are only shipped throughout the UK & Europe only. Bullocks!
HABITAT ONLINE:MINI CATALOGUE