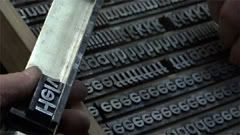 I remember when I first used Helvetica. It was for a science project on dreams and R.E.M. (a stage of sleep, not the band folks).
I used the font as Neue Ultra Light at a font size of 13. Thankfully, the project was success (thanks to my big sister!) and I've been an avid user of the font ever since.
"2007 marks the fiftieth anniversary of Max Miedinger and Edouard Hoffmann's design Helvetica, the most ubiquitous of all typefaces. Widely considered the official typeface of the twentieth century, Helvetica communicates with simple, well-proportioned letterforms that convey an aesthetic clarity that is at once universal, neutral, and undeniably modern."
LINK::
MOMA CELEBRATES::50 YEARS OF HELVETICA::April 6, 2007–March 31, 2008