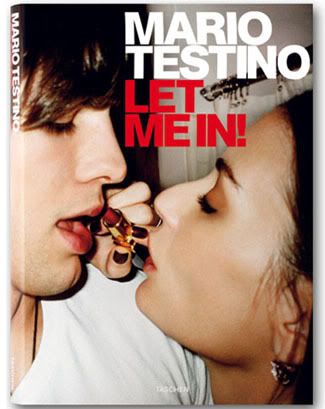 TASCHEN [books] releases newest edition for Mario Testino, the noted fashion/everything photographer and celebutant magnet.
The book's cover features Demi Moore applying red lipstick to a (still) baby faced Ashton Kutcher. This is only a peak at the tons of goodies that are inside.
"As one of the 21st century's most travelled, acclaimed, and influential fashion photographers, Mario Testino has unsurpassed access to the most magnetic stars of popular culture. For some time now he has been collecting a personal archive of off-screen moments, often snatched spontaneously before, during, and after more official sittings for Vanity Fair, Vogue, and Testino's many clients in the world of fashion. The result is a portrait not just of a generation of the most wanted and talked-about, but an invitation to be part of the backstage parties and unstaged moments of Testino's life. Sometimes offbeat, but always on the pulse, Let me in!, with Testino's eye for a modern kind of elegance liberated from conventional polish, is a new chapter from the photographer who has already made his mark with the books Any Objections, Front Row Backstage, Alive, Portraits, Kids, Diana Princess of Wales, and numerous exhibitions and publications worldwide."
Retailing for a pretty price of::$400
BUY::
TASCHEN