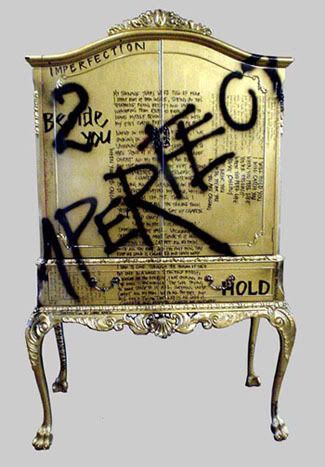 Swedish furniture design duo, Jimmie Martin, are out to make an aesthetic movement in the design world with their innovative pieces.
Products ranging from the LADY chair, which is "made out of dark wood finished with antique gold enamel paint. The seat is upholstered with artist canvas, featuring a copy of the famous "Lady with an ermine" motive, hand painted with acrylic." to IMPERFECTION 2(shown above) "a cabinet that features lyrics of "Rachel Fuller". Finished in a high gloss varnish. This Specific piece has a high gloss pink interior."
oodles of fun.
From the site::
"July 2004 marked the registration of Jimmie Martin Ltd.
Jimmie Martin Provides an eclectic showcase of one-off pieces of furniture combining the decadent and quirky with the nostalgic and urban.
All pieces are individually finished off to either the customer's personal taste, or to the ideas of the founders, Jimmie and Martin. Between them, they have experience and education in the arts, design, media and fashion as well as the business and IT market.
While Jimmie is still in the fashion business, via ICM Models, they are now both focusing their talents on their new bespoke furniture concept.
There is a rare consistency of sophisticated pieces combined with a sexy, modern design element."
LINK::
JIMMIE MARTIN