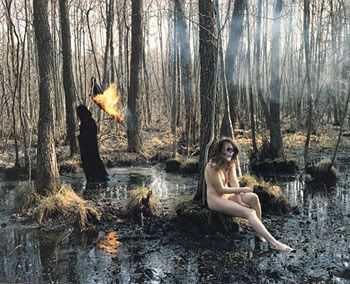 What is it about Hanna Lidens work that makes it so unique? We see dark, disturbing work all the time. But it's Lidens haunting unfamiliarity that makes it stand out. You want to look closer but that doesn't necessarily make the picture clearer-- it is literally distant.
Although to totally contradict myself, if I had to compare it to something, it would have to be a totally different medium, i.e. paintings by
MIGUEL CALDERON
, which you may know from the film The Royal Tenenbaums. Her work captures that same oddity as his photo "Bad Route", in which young men with masks on bikes growl at the supposed camera.
But it is her untitled photo (shown above) that in my opinion really enthralls the viewer. In it, a woman sits casually upon a rock as death walks behind her. She is accepting of her fate and seems calm as she transforms into a cadaver like being.It would be great to know the real meaning behind this photo, or if this idea just amused Liden but didn't necessarily have an intention. If anyone would happen to know, please share.
VIEW MORE WORK BY::HANNA LIDEN