Dent May is the newest band to join the Paw Tracks roster, which is home to bands Ariel Pink, Animal Collective, Exceptor, Panda Bear, and more. The video, directed by Jon Leone features strobe light effects, superimposed images of frontman May wearing Elton John-inspired sunglasses (while in a bathtub), and plenty of cheesy male serenading.
Dent May's new album,
The Feel Good Music of Dent May & His Magnificent Ukulele
, is out now on CD, LP and digital formats.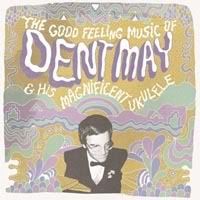 ARTIST::
DENT MAY
TRACK::THE FEEL GOOD MUSIC OF DENT MAY & HIS MAGNIFICENT UKULELE
LABEL::
PAW-TRACKS
DIRECTOR::
JON LEONE
PROD.CO::N/A