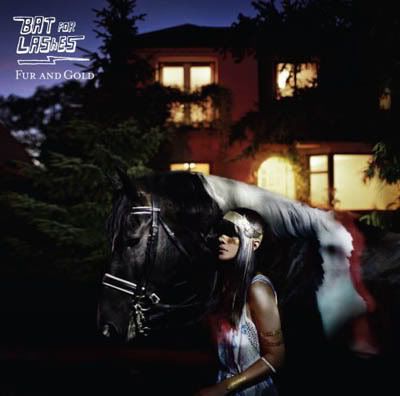 I have finally been pulled from the dark depths of a music slump! It happened one night, not too long ago, when I was searching through the archives of Colonel Blimp's website. Clicking on
Dougal Wilson
's video reel, I came across a new video he directed for Bat for Lashes
(Vid::Platform)
for a track called "What's a Girl To Do?" a drum infused song with a similar sound to The Ronettes hit "Be My Baby" (better known as that song from the opening credits in Dirty Dancing).
It was love at first sound! Maybe it was the nostalgia that pulled me in, but it was the band's lead vocalist Natasha Kahn's melodic voice that made me stay. And after dl'ing their debut album Fur and Gold, this so-called "love" was reaffirmed.
Their opening track 'Horse and I' came to lead vocalist Natasha Khan in a dream. It was "Inspired by tales of Joan of Arc. Natasha is woken by a black horse at the window and sent on a fateful quest. This extraordinary dream became the muse for the songs that now comprise Fur and Gold."
Amongst her fancy fan base is Nellee Hooper, Brett Anderson, and Bjork, who was said to be seen in a sold out crowd. B4L (my new nickname for them) wide ranges of instruments include marching band drums, desert guitar, ballet school piano, harpsichord, sub-bass snarls, handclaps and naive beats.
If it is not their sound that draws you in, then maybe it'll be Natasha Kahn's individual style or ski slope nose that'll keep your attention. Regardless, it's more than worth a listen.
BAND SITE::BAT4LASHES
BUY::VIA AMAZON $7.45 & up