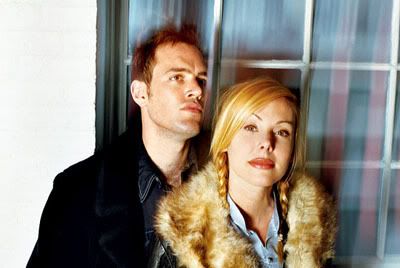 Jeremy Blake and Theresa Duncan, in 1997.
"Theresa Duncan and Jeremy Blake were talented young artists who were deeply in love. Their bizarre suicides have captivated the art world: Was it their brilliant imaginations that did them in?"
Like a plot out of a movie, it is a tragic story about the unexpected deaths of two beloved contributors to the world of art and culture. Jeremy Blake, whom some described as a visual video artist, and his writer/aspiring filmmaker girlfriend Theresa Duncan.
Together they created a world of conspiracy and lunacy, overwhelmed with desires to find an answer to their constant insecurities.
They possessed an unwavering love for each other and were always quick to defend one another's honor. It was Theresa and Jeremy against their friends, against Hollywood, against scientologist; it was Theresa and Jeremy…against the world.
Ultimately, their paranoia was taken to extremes when Theresa took her life on July 10, swallowing a number of Tylenol PM tablets with bourbon. The following week, Jeremy took his own life, by drowning himself in the ocean off New York's Rockaway Beach.
Stills from Blake's "Winchester" series.
(Photo: Jeremy Blake, 1906, from the "Winchester" series, 2003/Courtesy of the San Francisco Museum of Modern Art)
No one knows the exact reason why either of them could've made such rash decisions to end their lives, but it is no question that they will be greatly missed.
Where did it all begin? Back in '94, when the couple first met at a Fugazi concert. Then in 1995, one autumn night they ran into each other again. It was backstage at the old Knitting Factory, and this time the attraction was immediate. From that point on, they were inseparable. They shared ideas, interests, and frequent visions that left them segregated from a world outside.
NY Mag has recently published an article on this tragic story that is honest but only a mere peak into the lives of two brilliant and lost souls.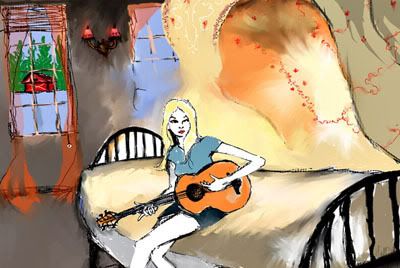 Duncan's animated short, The History of Glamour.
(Photo: Theresa Duncan, 1999, The History of Glamour/Courtesy of the Film Society of Lincoln Center
NY MAG ARTICLE
THE WIT OF THE STAIRCASE::THERESA DUNCAN'S BLOG