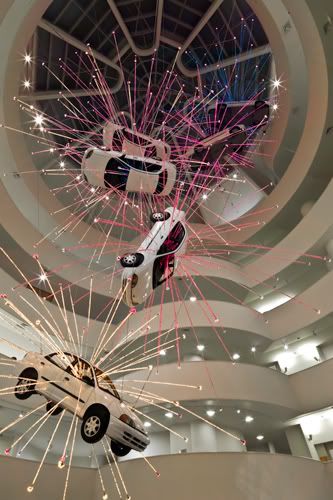 Cai Guo-Qiang is renowned Chinese artist currently exhibiting at Soloman R. Guggenheim. He has successfully managed to execute an incredible feat, in which harnesses propel six compact cars upwards throughout the Guggenheim rotunda.
The cars are ornamented with multichannel light tubes shooting out from every direction through its windows, like a reenactment of an explosive pile-up of cars ablaze. It's an awesome sight and the exhibit as a whole is pretty groundbreaking. So, if you haven't made it out, you still have time.
The show will end May.28th, but I'm informing you now so you'll really make it out there!
MORE INFO::
GUGGENHEIM. CAI GUO_QIANG: I WANT TO BELIEVE