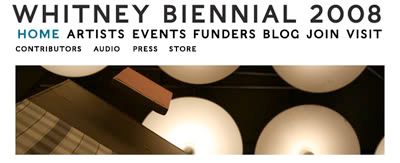 The prestigious Whitney Museum will open their doors for their annual Whitney Biennial: an event in which dozens of emerging artists will gain incomparable exposure.
The Whitney Biennial 2008, which is being curated by Henriette Huldisch and Shamim M. Momin,
officially
opened on the 4th, but only to curators and gallery owners.
The museum will host the work of Contemporary artists as well as their permanent collection.
FOR MORE INFO::
WHITNEY BIENNIAL 2008