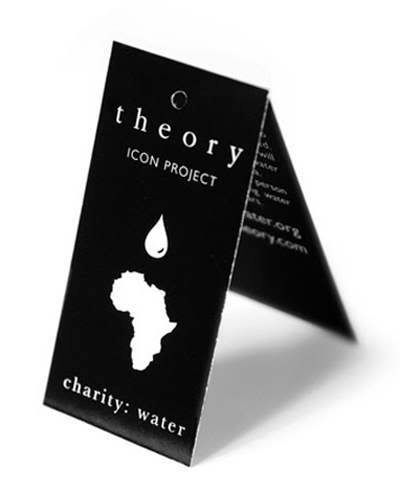 Theory and Scott Harrison's non-profit organization, Charity, have joined forces in an effort to improve hygienic water conditions in Ethiopia.
A special event will be hosted this weekend in hopes of raising money for the cause, which will work towards the building of drinking wells throughout the impoverished country.
How will they do this? Selling wearable modern merchandise that makes you feel good and look good while honing in your philanthropic efforts.
Wahoo for Charity.
MORE INFO::
THEORY::CHARITY
SPECIAL IN STORE EVENT TOMORROW:
SATURDAY, MARCH 8TH / NOON - 8:00 PM
WE'LL BE IN THE FLAGSHIP STORE ON GANSEVOORT STREET MAKING PRESENTATIONS. PLEASE STOP BY AND SUPPORT THE EFFORT. STAFF WILL ALSO BE AT THE SPRING ST. LOCATION.