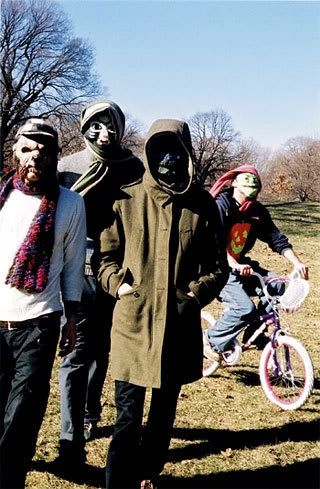 "It seems like there's one moment where everything clicks with [our music]", says Dave Portner of Animal Collective, as he refers to the way listeners approach their music, which is with a couple of tries.
Animal Collective
is a
collective
trio consisted of Dave Portner (aka Avey Tare), Noah Lennox (aka Panda Bear), and Brian Weitz (aka Geologist), all of whom have mildly succeeded with side solo projects. They've been making music together for over ten years now (since Clinton was in office) and their notoriety keeps growing with devoted listeners and those who try to become a listener, but much to their chagrin, "just don't get it all". Their latest album,
Merriweather Post Pavillion
, is a follow-up to
Stawberry Jam
(released 2007). And in a Pitchfork interview out today, interviewer Mark Richardson sheds a little perspective on the band's sometimes misunderstood reputation.
"There have definitely been other times when we want people to understand we're just normal guys. We're not these weirdoes that a lot of people pin us down as trying to be. It's been, in that way, important for us to talk to our fans and meet people. That takes away from the mystery, I guess. But it's important to have an understanding when you feel like you're stepping over the boundaries that we've set. I think there are still certain things about our records, or the music-making process, that we really don't care for people to know." -Dave Portner
READ::
ANIMAL COLLECTIVE INTERVIEW (

PITCHFORK

)
OFFICIAL SITE::
ANIMAL COLLECTIVE